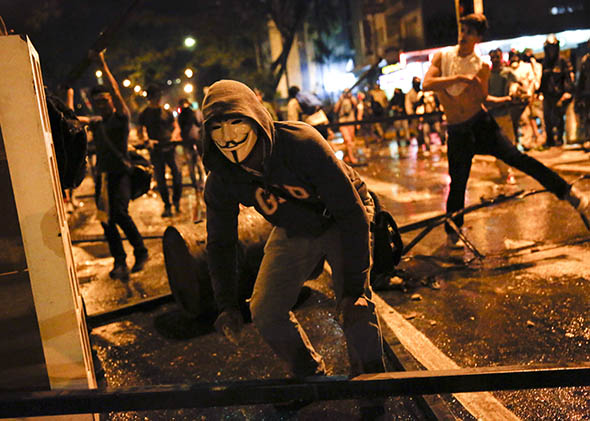 Supporters of opposition leader Leopoldo Lopez during a protest against Nicolas Maduro's government in Caracas on Feb. 19. Photo by Carlos Garcia Rawlins/Reuters
T

he tremors have been building for years, but on Wednesday night Venezuela was convulsed in a wave of violence as the government of President Nicolas Maduro appeared to enforce a brutal crackdown on nationwide protests. Streets were filled with tear gas and the crackle of gunfire, as National Guard units and National Police came out in force. Bands of regime supporters—paramilitary gangs known as colectivos—swarmed neighborhoods and public squares on their motorcycles, firing live ammunition at anyone who remained in the open. Some stormed into apartment buildings in search of protesters. The crackdown extended from Caracas to Maracaibo, Maracay, Valencia, and nearly every major city across the South American country. Venezuela's cities have become notoriously dangerous in recent years, as the country's crime and murder rate soared. But on Wednesday, Venezuelan cities weren't simply dangerous; they were a war zone.
As startling as the violence itself was the fact that the government gave no warning or explanation in advance. In a rambling national address earlier that day, President Maduro spoke of the need for peace—then praised the work of paramilitary thugs and promised to target members of Popular Will, a leading opposition party. Its leader, Leopoldo Lopez, was spending his second night in a military prison, after surrendering himself to authorities on Tuesday to face trumped-up charges implicating him for the death of three Venezuelans at protests. Even if Lopez, one of the opposition's best-known leaders, is imprisoned, Maduro isn't acting like the man with the upper hand. In his remarks Wednesday, he seemed erratic and unsure of himself, which only fuels rumors that he may have diminishing control over the state and its security forces.
The most focused target of the regime's repression has been the Popular Will party. Lopez is being held in the Ramo Verde military prison, a small facility that sits on a mountainside about an hour outside of Caracas. The remote prison has held other high-value political prisoners during Chavez's years in power. On Tuesday, security personnel raided the Popular Will party's headquarters in search of their second in command, Carlos Vecchio. Vecchio, a lawyer and activist, has been forced to go into hiding, and on Wednesday President Maduro confirmed that a warrant had been issued for his arrest. There were also unconfirmed reports that a warrant would soon be released for David Smolansky, the next highest party leader. A senior member of the party confirmed Thursday morning that most of the party's top leadership has either been detained or gone underground.  
That may be the key difference between Venezuela today and before: For all of the combative rhetoric and venom spewed by Hugo Chavez, the Comandante always kept a lid on widespread repression. The late strongman was expert at verbally provoking and demonizing his opponents, but the threshold for a large-scale crackdown was never crossed. Chavez would unsettle his enemies, entertain half measures, or defuse a situation by simply directing his abuse at a wholly new target. But Maduro has never possessed his predecessor's confidence, communication, or political canny, and he inherited a government rife with factions. Since his narrow election last April, the fear has been that Chavismo's odd blend of bravado and insecurity would swing wildly in his hands, especially as the country dire economic conditions worsened. Early Thursday morning, a senior adviser to a Popular Will party leader described the situation as "extremely fluid," before expressing surprise at Maduro's decision to ramp up the confrontation. "The government keeps upping the ante," he said.
READ ENTIRE ARTICLE HERE: http://www.slate.com/articles/news_and_politics/foreigners/2014/02/nicolas_maduro_s_venezuela_erupts_in_violence_the_venezuelan_president_appears.html
Print this post
Do you like this post?