"Facts do not cease to exist because they are ignored." – Aldous Huxley
Six months ago I wrote an article called Are You Seeing What I'm Seeing?, describing my observations while traveling along Ridge Pike in Montgomery County, PA and motoring to my local Lowes store on a Saturday. My observations were in conflict with the storyline portrayed by the mainstream media pundits, Ivy League PhD economists, Washington politicians, and Wall Street shills. It is clear now that I must have been wrong. No more proof is needed than the fact the Dow has gone up 1,500 points, or 11%, since I wrote the article. Everyone knows the stock market reflects the true health of the nation – multi-millionaire Jim Cramer and his millionaire CNBC talking head cohorts tell me so. Ignore the fact that the bottom 80% only own 5% of the financial assets in this country and are not benefitted by the stock market in any way.
The mainstream corporate media that is dominated by six mega-corporations (Time Warner, Disney, Murdoch's News Corporation, Comcast, Viacom, and Bertelsmann), has one purpose as described by the master of propaganda – Edward Bernays:
"The conscious and intelligent manipulation of the organized habits and opinions of the masses is an important element in democratic society. Those who manipulate this unseen mechanism of society constitute an invisible government which is the true ruling power of our country. …We are governed, our minds are molded, our tastes formed, our ideas suggested, largely by men we have never heard of. This is a logical result of the way in which our democratic society is organized. Vast numbers of human beings must cooperate in this manner if they are to live together as a smoothly functioning society. …In almost every act of our daily lives, whether in the sphere of politics or business, in our social conduct or our ethical thinking, we are dominated by the relatively small number of persons…who understand the mental processes and social patterns of the masses. It is they who pull the wires which control the public mind.
These media corporations' task is to use propaganda and misinformation to protect the interests of the status quo. The ruling class has the power to manipulate public opinion, obscure the truth, alter government data, and outright lie, but they can't control the facts and reality smacking the average person in the face every day. Based on the performance of the stock market and the storyline of economic recovery being peddled by the corporate media, the facts must surely support their contention. Here are a few facts about what has really happened in the last six months since I wrote my article:
The working age population has grown by 1.1 million, the number of employed Americans is up 500k, while the number of people who have left the labor force has gone up by 600k. The BLS reports the unemployment rate has fallen without blinking an eye or turning red with embarrassment.
The number of Americans entering the Food Stamp Program in the last six months totaled 1 million, bringing the total to 47.8 million, or 20% of all households (up 15 million since the Obama economic recovery began in December 2009).
Existing home sales have increased by a scintillating 2.9% on a seasonally adjusted annual basis and average prices have fallen by 6% in the last six months. It is surely a great sign that 32% of all home sales are to Wall Street investors and 25% are either foreclosure sales or short sales. A large percentage of the remaining sales are funded by 3% down FHA government backed loans.
There were 31,000 new homes sales in January versus 34,000 new home sales six months prior. Through the magic of seasonal adjustment, this translates into a 15% increase.
Single family housing starts were 41,600 in February versus 51,400 six months prior. Even using seasonal adjustments, the government drones can only report a pathetic 4.7% annualized increase and flat starts over the last three months, with mortgage rates at all-time lows.
The National Debt has gone up by $750 billion in the last six months, while Real GDP has gone up by less than $150 billion.
Real hourly earnings have not increased in the last six months.
Consumer debt has risen by $65 billion as the Federal Government has doled out student loans like candy and auto loans (through the 80% government owned Ally Financial – aka GMAC, aka Ditech, aka ResCap) like crack dealer in West Philly.
The Federal Reserve has increased their balance sheet by $385 billion in the last six months by buying toxic mortgages from Wall Street banks and the majority of Treasuries issued by the government to fund the $1 trillion annual deficits being produced by the Obama administration. It now totals $3.2 trillion, up from $900 billion in September 2008, and headed to $4 trillion before this year is out.
Retail sales have increased by less than 2% over the last six months and are barely 1% above last February. On an inflation adjusted basis, retail sales are falling. Other than internet sales and government financed auto sales, every other retail category is negative year over year. This is reflected in the poor sales and earnings reports from JC Penney, Sears, Best Buy, Wal-Mart, Target, Lowes, Kohl's, Darden, McDonalds, and Yum Brands. I'm sure next quarter will be gangbusters, with the Obama payroll tax increase, Obamacare premium increases, 15% surge in gasoline prices, and continued inflation in food and energy.
Considering that 71% of GDP is dependent upon consumer spending (versus 62% in 1979 before the financialization of America), the dreadful results of retailers and restaurants even before the Obama tax increases confirms the country has been in recession since the second half of 2012. In 1979 the economy was still driven by domestic investment that accounted for 19% of GDP. Today, it wallows at all-time lows of 13%. In addition, our trade deficits, driven by debt fueled consumption, subtract 3.5% from GDP. These facts are reflected in the depressed outlook of small business owners who are the backbone of growth, hiring and entrepreneurship in this country. Small businesses of 500 employees or less employ half of all the private industry workers in the country and account for 65% of all new jobs created. There are approximately 27 million small businesses versus 18,000 large businesses. The chart below does not paint an improving picture. The small business optimism has dropped from an already low 92.8 in September 2012 to 90.8 in March 2013.
The head of the NFIB couldn't make the situation any clearer:
"While the Fortune 500 is enjoying record high earnings, Main Street earnings remain depressed. Far more firms report sales down quarter over quarter than up. Washington is manufacturing one crisis after another—the debt ceiling, the fiscal cliff and the Sequester. Spreading fear and instability are certainly not a strategy to encourage investment and entrepreneurship. Three-quarters of small-business owners think that business conditions will be the same or worse in six months. Until owners' forecast for the economy improves substantially, there will be little boost to hiring and spending from the small business half of the economy." – NFIB chief economist Bill Dunkelberg
If consumers, who account for 71% of the economy, aren't spending, and small business owners, who do 65% of all the hiring in the country, are petrified with insecurity, why is the stock market hitting all-time highs and the corporate media proclaiming happy days are here again? It can be explained by the distribution of wealth and income in this country. Every media pundit, politician, Wall Street shill, Ivy League PhD economist, and corporate titan you see on CNBC, Fox or any corporate media outlet is a 1%er or better. The chart below shows the bottom 99% saw their real incomes decline between 2009 and 2011, while the top 1% reaped the stock market gains and corporate bonuses for using "creative" accounting to generate record corporate profits. The trend in 2012 through today has only widened this gap, as real worker wages have continued to decline and the stock market has advanced another 20%.
The feudal financial industry lords are feasting on caviar and champagne in their mountaintop manors while the serfs and peasants scrounge in the gutters for scraps and morsels. This path has been chosen by the king (Obama) and enabled by his court jester (Bernanke). Money printing and inflation are their weapons of choice. We are living in a 21st Century version of the Dark Ages.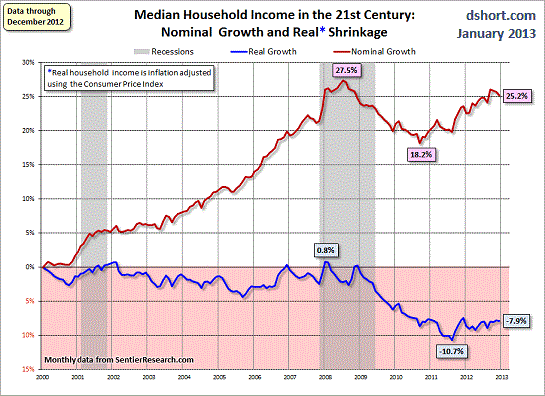 On the Road Again
I've been baffled by a visible disconnect between deteriorating data and the storyline being sold to the ignorant masses by the financial elitists that run the show. The websites and truthful analysts that I respect and trust (Zero Hedge, Mish, Jesse, Karl Denninger, John Hussman, David Stockman, Financial Sense and a few others) provide analytical evidence on a daily basis that confirm my view that our economic situation is worsening. We are all looking at the same data, but the pliable faux journalists that toil for their corporate masters spin the data in a manner designed to mislead and manipulate in order to mold public opinion, as Edward Bernays taught the invisible ruling class. As you can see, numbers and statistical data can be spun, adjusted, and manipulated to tell whatever story you want to depict. I prefer to confirm or deny my assessment with my observations out in the real world. I spend 12 hours per week cruising the highways and byways of Montgomery County and Philadelphia as I commute to and from work and shuttle my kids to guitar lessons, friends' houses, and local malls. I can't help but have my antenna attuned to what I'm seeing with my own eyes.
As I detailed in my previous article, Montgomery County is relatively affluent area with the dangerous urban enclaves of Norristown and Pottstown as the only blighted low income, high crime areas in the 500 square mile county of 800,000 people. The median household income and median home prices are 50% above the national averages. Major industries include healthcare, pharmaceuticals, insurance and information technology. It is one of only 30 counties in the country with a AAA rating from Standard & Poors (as if that means anything). On paper, my county appears to be thriving and healthy, with white collar professionals living an idyllic suburban existence. One small problem – the visual evidence as you travel along Welsh Road towards Montgomeryville or Germantown Pike towards Plymouth Meeting reveals a decaying infrastructure, dying retail meccas, and miles of empty office complexes.
I don't think my general observations as I drive around Montgomery County are colored by any predisposition towards negativity. I see a gray winter like pallor has settled upon the land. I see termite pocked wooden fences with broken and missing slats. I see sagging porches. I see leaky roofs with missing tiles. I see vacant dilapidated hovels. I see mold tainted deteriorating siding on occupied houses. I see weed infested overgrown yards. I see collapsing barns and crumbling farm silos. I see houses and office buildings that haven't been painted in 20 years. I see clock towers in strip malls with the wrong time. I see shuttered gas stations. I see retail stores with lights out in their signs. I see trees which fell during Hurricane Sandy five months ago still sitting in yards untouched. I see potholes not being filled. I see disintegrating highway overpasses and bridges. I constantly see emergency repairs on burst water mains. I see malfunctioning stoplights. I see fading traffic signage. I see regional malls with rust stained walls beneath their massive unlit Macys, JC Penney and Sears logos. I see hundreds of Space Available, For Lease, For Rent, Vacancy, For Sale and Store Closing signs dotting the suburban landscape. These sights are in a relatively affluent suburban county. When I reach West Philly, it looks more like Dresden in 1945.
                      Dresden – 1945                                                     Philadelphia – 2013
I moved to my community in 1995 when the economy was plodding along at a 2.5% growth rate. The housing market was still depressed from the early 90s recession. The retail strip centers and larger malls in my area were 100% occupied. Office parks were bustling with activity. Office vacancy rates were the lowest in twenty years during the late 1990s. National GDP has grown by 112% (only 50% after adjusting for inflation) since 1995, with personal consumption rising 122%. Domestic investment has only grown by 80%, but imports skyrocketed by 204%. If the economy has more than doubled in the last 18 years, how could retail strip centers in my affluent community have 40% to 70% vacancy rates and office parks sit vacant for years? The answer is that Real GDP has not even advanced by 50%. Using a true rate of inflation, not the bastardized, manipulated, tortured BLS version, shows the country has essentially been in contraction since the year 2000.
READ ENTIRE ARTICLE HERE: http://www.theburningplatform.com/?p=48749
Print this post
Do you like this post?
---
The International Chronicles Comments Editor
commented
2013-03-31 10:08:35 -0400 · Flag
B.S. writes:

Reality is always a bit stark.
The International Chronicles Comments Editor
commented
2013-03-26 23:34:33 -0400 · Flag
Thomas writes:

you will understand why earlier this month I was wandering around muttering to myself that I Belong in a Sanitarium, and that was Dow Jones 500 points lower !