"Facebook is so annoying." How many times have you heard that sentiment this past year? We bet a lot, because more and more people seem to be getting tired of the social media platform, especially young people. We've noticed a nationwide annoyance with Facebook over 2013. The company even admitted in October that younger teens were using the network less frequently on a daily basis. Here are 11 reasons that might convince you to let your Facebook account go in 2014.
1. Nobody actually wants to just read about what you're doing anymore.
Think about it: What sounds more appealing (and believable)? Reading a status that says, "I'm currently hanging out with Will Smith!" or a picture of that person actually posing with Smith? A photo is definitely more engaging. Here's the most-liked Instagram picture of 2013: Justin Bieber's snap with Smith.
When TIME interviewed teenagers about their social media use in March, 16-year-old Hamp Briley explained that kids these days don't have time for Facebook: "Twitter's all statuses, Instagram's all pictures. People like to do more specific things like that instead of being on just Facebook."

2. Facebook makes it impossible for you to stay "private."
For many valid reasons (think stalker exes or potential employers), some people don't like having their name come up when it's typed into the Facebook search bar. However, most users this year found problems with changes to privacy settings. For one, Facebook removed the option to keep your name hidden when people search you. They also forced people to control their privacy settings on a cumbersome item-by-item basis. Today, the only way to make sure certain people can't access your profile is to block them. Or alter your name so it doesn't appear when people search your real one. Or, of course, quit Facebook entirely.

3. Your parents (and even grandparents) are now watching your every move.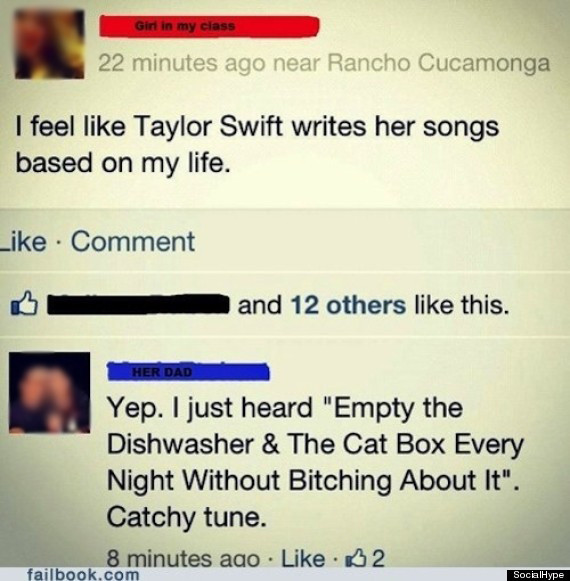 This year seemed to be the year everyone's mom, dad, grandmother and great aunt got hooked on Facebook. And that meant every time you posted a status about something innocuous, these Facebook novices started breathing down your neck the minute you hit "post." We get enough scolding from our parents "IRL" -- no need to let it trickle onto a social media site where our friends can laugh at our familial bickering.
READ ENTIRE ARTICLE HERE: http://www.huffingtonpost.com/2013/12/30/reasons-quit-facebook_n_4493791.html?utm_hp_ref=mostpopular
Print this post
Do you like this post?